PLATFORM TENNIS
In order to keep our courts open to members, we have established "Guidelines" for the safety of all members. Please read - "Covid Rules for LCC Paddle Tennis - 2020/21". Thank You, stay safe.
The Club has an aluminum platform tennis court that is illuminated for night play and heated to keep its surface free from ice and snow.

Frequently called "paddle tennis" by the game's adherents, Platform Tennis is the most rapidly growing sport at the Club. To meet member needs, the Club retains a part time professional to provide lessons and clinics not only to veterans but to our many newbies who have taken up the game.

Our paddle players keep the heart of the club beating during the winter months when the golf course and tennis courts are closed for the winter. Particularly popular are the Friday night mixers at which members of all ages enjoy spirited play, refreshments and an informal dinner around a fire pit adjacent to the court.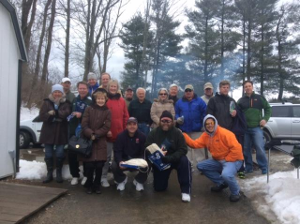 end